1/16/2018
Early this past Saturday, as the first rays of light were peeking over the horizon, I made my way to the west side of the island, headed to the Kamehameha Schools Technology "Mashup" (conference/unconference).  I was excited and a little nervous to be co-presenting with a colleague of mine at the mashup, discussing, of all things, my journey with this writing blog, how the Two Writing Teachers has been such a wonderful resource for me and how other teachers could get started writing and blogging on their own.  On the drive there, I remember looking to my left and marveling at the sunrise and how beautiful the day was.
When I got there, my friend and I got the room ready, set up our computers, tested the wifi and, once everything was to our satisfaction, we made our way to where the opening remarks would take place.  Just as the conference was about to begin, we all heard our phones beeping loudly…that irritating alert that normally warns us, during heavy rains, of a "flash flood warning."  Imagine the shock when we all looked at our phones and saw this: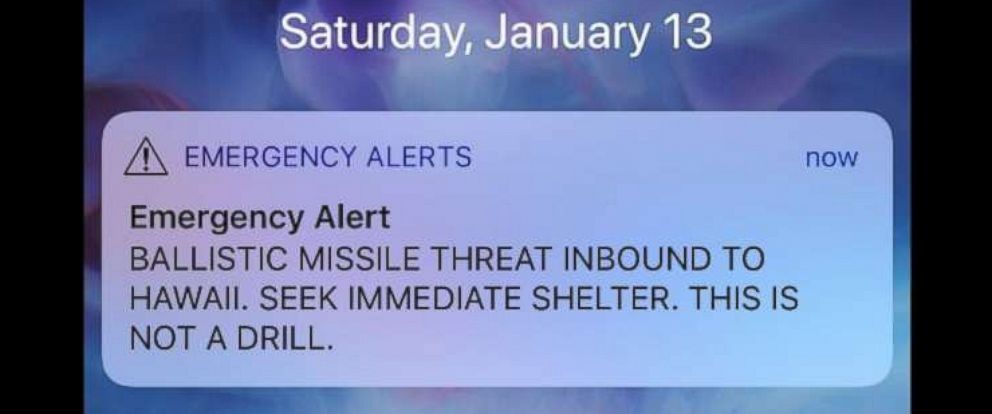 I remember wondering if it was a joke.  I turned to my friend and said, "Did you get the message too?"  Of course she did.  We all did.  I went outside to call my husband and let him know.  As the phone was ringing, I immediately heard the warning sirens.  I asked someone standing next to me, "Do you hear that?  Are those the sirens?"  She just silently nodded her head.
And that's when I began to panic.
My husband answered, knowing nothing about what was going on.  I instructed him NOT to leave the house to take my daughter to hula and to turn on the TV and radio.  I wanted to go inside, grab my keys and backpack and drive home right then and there, but I knew I only had 15 minutes and there was no way I would make it home.  With the tensions between North Korea and the U.S., Hawaii has been briefed about what to do in the event of a nuclear attack.  Our warning sirens have now been modified and informational pamphlets from the Hawaii State Department of Defense have been discussed and posted online for residents to prepare for…something.  But I wasn't prepared for this.
I called my mom, who was already in a panic.  She had to get my nieces who were home by themselves.  I told her to calm down because she would be with the girls and she didn't want to scare them.  And then I told her I loved her.  I called my sister, who was driving with her son in the car, also in a panic, trying to get to my mom.  I also told her to calm down for the sake of her son in the car, repeated that it would be okay and then told her I loved her too.  I called my dad, who was on the golf course, as he is every Saturday, but only got his voicemail.  I called my sister in California, who had no idea what was going on.  And I think because I didn't have to console her (because she wasn't here), it was then that I started to cry.  I asked her for help.  I told her I loved her.  I told her to please keep calling our dad because he was on the golf course.  Then I told her I loved her again.  Then I called my husband and told him that there was nothing more that I wanted than to be at  home, hugging my babies and him, spending what I thought were my last moments on this earth with them.  I cried and he did his best to console me through a telephone line.  Then I told him that I had to go.
We were ushered into the middle of the school, away from any windows, and huddled together in the hallway.  I have never been more scared than I was at that moment.
38 minutes after this disaster started, everyone's phones started blaring again, with another message stating that it was a "false alarm."  For 38 minutes, I wondered what it would feel like when the missile hit.  For 38 minutes, I wondered if it would hurt.  For 38 minutes, I wondered if my family would be okay.  For 38 minutes, I wondered if my dad had found somewhere to go.  For 38 minutes, I knew that I didn't want to die.